Derek Cowan est un artiste canadien qui vit en Colombie Britannique au coeur de la forêt Canadienne où il a son atelier de gravure et où il travaille principalement en gravure sur bois pour ses estampes et livres d'artiste.
Notre premier contact avec lui eut lieu l'année ou l'Atelier Vis-à-Vis invita le Canada anglophone en tant que "Pays Invité" de Book Project International/ Vèmes Rencontres Internationales de l'Edition de Création à Marseille. Il en fut le commissaire en 2002.
Cette année Derek est venu passer quelques mois en France pour travailler la lithographie à Paris à l'Atelier Contrepoint, mais aussi chez Idem Paris, et Stanley Hayter. De passage à Marseille il est venu imprimer 3 projets d'estampe en sérigraphie à l'Atelier Vis-à-Vis ou nous avons eu le plaisir de retravailler avec lui.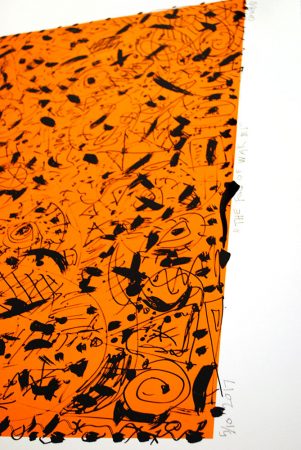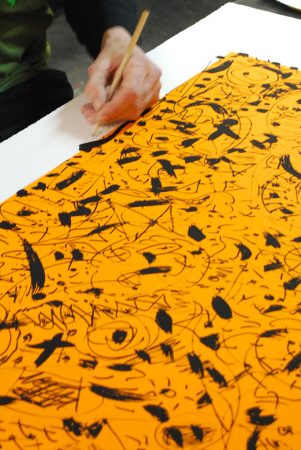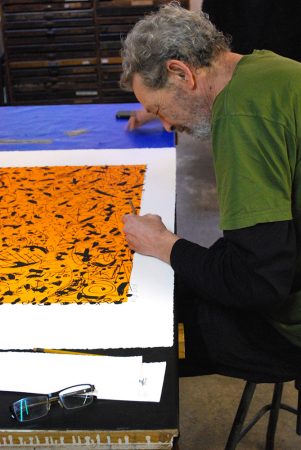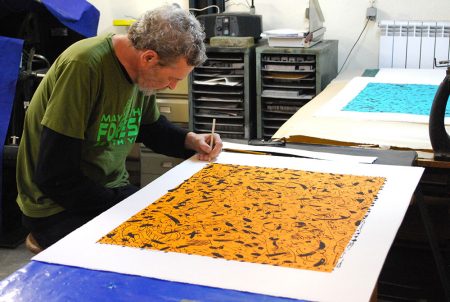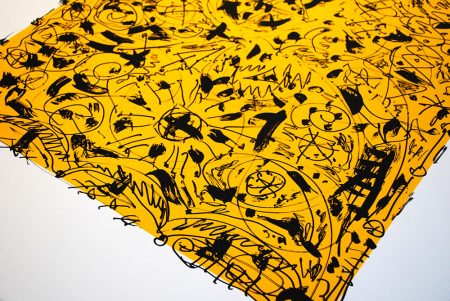 Signature des estampes "Fog of the war" par l'artiste Derek Cowan
Ses livres d'artiste figurent dans de nombreuses collections dont:
Rare Book Library. McGill University, Montreal.
Metropolitan Toronto Reference Library.
Ricard A. Gleeson Library. University of San Francisco.
Suzzallo Library, special collections. University of Washington, Seattle.
Rare Book Room. New York City Public Library.
Welesley Colllege Library/ Special collections. Wellesley, Massachusset.
Special Collections Library, University of California, Los Angeles.
Tate Gallery Library. London.
Victoria and Albert Museum. National Art Library. London.
The Royal College of Art. London.
National Library of Australia. Canberra.
Fonds International du Livre d'Artiste contemporain, Atelier Vis-a-Vis. Marseille.